Each month we feature the current needs of a local community organization. Listed below are easy ways to support the important work of the Jewish Federation of Greater Kansas City. 
The Jewish Federation of Greater Kansas City is part of the Jewish Federations of North America network, which raises and distributes more than $2 billion annually to support hundreds of programs and services that sustain and enhance Jewish life at home and around the world. Your gift to Jewish Federation supports more than 80 programs in the areas of Safety Net Services, Youth & Family Services, Senior Adult Services, Jewish Identity & Education and Israel & Overseas.
If you have any questions or to make a donation, please contact Beatrice Fine or log in to DonorCentral to give through your Donor Advised Fund.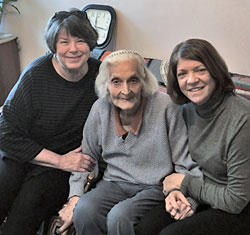 $200 pays for a 5 year-long PJ Library book subscription for a local child.
 
$120 pays for critical winter relief for 2 senior adults in the Former Soviet Union 
 
$300 buys a 3-month supply of formula and diapers for a baby at Orr Shalom's emergency foster home in Israel
 
$500 pays for 3 teens to connect with other Jewish teens at BBYO regional events
 
$1,000 pays for financial assistance to help an HBHA student receive a Jewish education
 
Any donation amount helps the most vulnerable in the Kansas City Jewish community through the Federation's Chesed Fund, which provides short- and long-term financial assistance to those in chronic need.