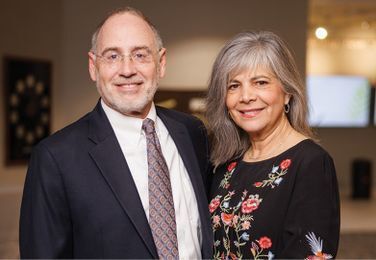 After nearly 20 years of exemplary service, Lauren Mattleman Hoopes has made the decision to step down as Executive Director of the Jewish Community Foundation of Greater Kansas City at the end of 2023. We are so grateful for Lauren's creative, dedicated and knowledgeable leadership of what is now considered one of the most successful and well-respected Jewish community foundations in North America. The Foundation's assets have quadrupled over the past 20 years, and now include more than 1,700 funds and charitable accounts.  
Under Lauren's guidance, the Foundation has become an invaluable resource by encouraging, cultivating and supporting charitable giving in our community, which has strengthened many of our cherished Jewish community agencies and organizations. In 2022 alone, the funds of the Foundation collectively distributed more than $31.5 million to charitable organizations across the country, primarily in the Kansas City area.
I know that those of you who have worked personally with Lauren have appreciated her warmth, her insightful knowledge of philanthropic opportunities and her dedication to Foundation volunteers, staff and fundholders. She has made us all feel part of the "Foundation Family." While we will greatly miss her day-to-day leadership, Lauren has succeeded in positioning the Foundation for long term success.
Fortunately for us, Lauren plans to remain in the area, and hopes to use her skills as a non-profit management and planned giving consultant and executive coach. A Succession Planning Task Force to identify Lauren's successor is now being formed and will be chaired by Past President and Life Trustee Irv Belzer.
Of course, Lauren will be fully engaged with the management of the Foundation through the end of 2023, and you should feel free to reach out to her with any questions.  

Frank Lipsman
President, JCF Board of Trustees
See an article in the Kansas City Jewish Chronicle about Lauren's retirement here.