A collection of experiences by JCF fundholders for JCF fundholders.
Connecting our Giving Community is a series of fun and engaging experiences open exclusively to Jewish Community Foundation fundholders. Each hosted event is an opportunity to come together with members of the Foundation Family to socialize, network, and learn about smart new ways to make a philanthropic impact. 
All experiences are complimentary, and we invite you to come to one or come to all! If you have any questions or would like to host or propose a topic for a future event, please contact Beatrice Fine at (913) 327-4618. 
---
The Pandemic Changed Everything - What About Our Giving?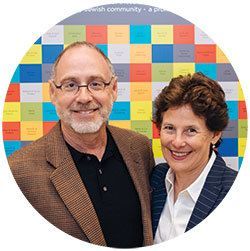 What a year! With so much changed and so many compelling needs, how do we reassess our charitable priorities? Do we alter our giving in light of the circumstances caused and highlighted by the pandemic? How do we maximize our impact? Join us for a lively discussion and chance to ask questions and share ideas and perspectives with other JCF fundholders.
In lieu of refreshments, the Jewish Community Foundation will be making a donation to a pandemic relief charity in honor of those who attend.
To keep the discussion manageable in this digital format, space is limited.
Contact Information
Josh Stein
(913) 327-8121