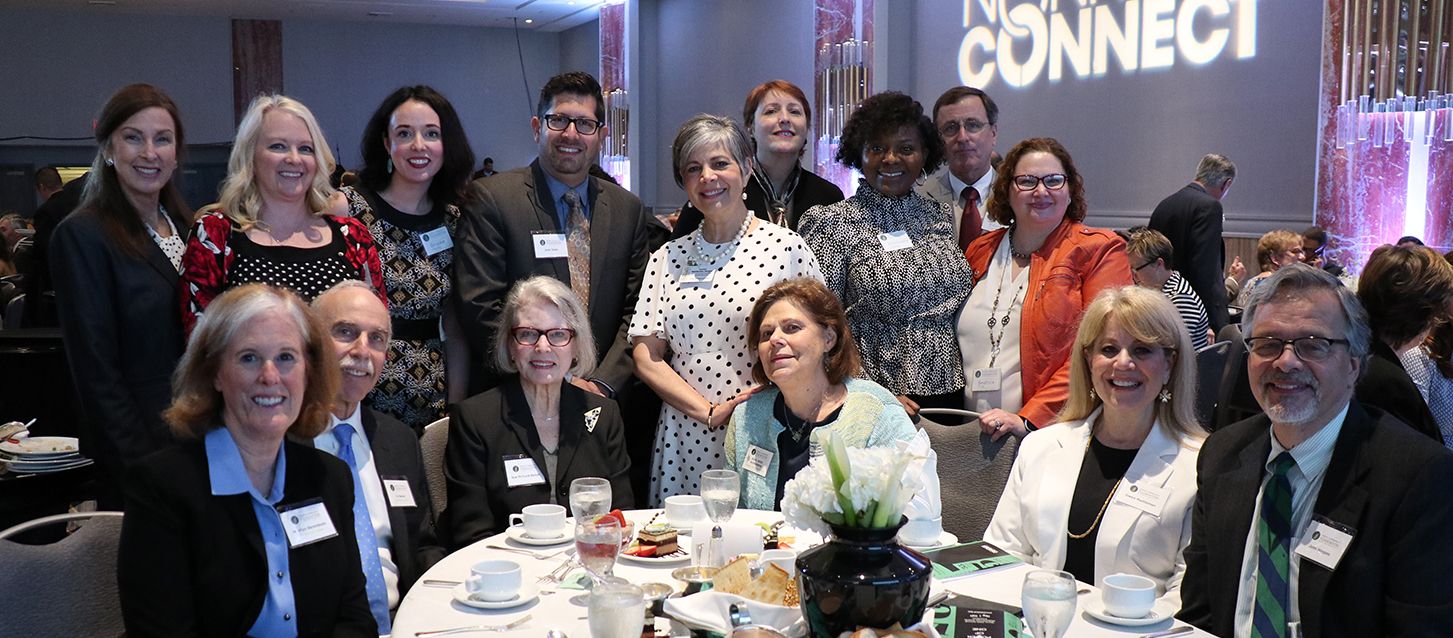 The Jewish Community Foundation of Greater Kansas City (JCF) has been named Nonprofit Connect's 2019 Philanthropy Award Honoree for Excellence in Impact. The award honors those high-performing nonprofits whose programs and services set a high standard of quality, create meaningful social change, and embody the spirit of giving in Kansas City. The Foundation was honored at the 2019 Philanthropy Awards Luncheon, Kansas City's oldest and largest celebration of giving, on May 1. More than 1,000 members of the non-profit and for-profit communities attended the luncheon.

During the past 35 years, Nonprofit Connect has recognized a prestigious group of individual and business philanthropists, community volunteers, nonprofit professionals, and nonprofit organizations that are changing lives in Kansas City. Though several Jewish philanthropists have been recognized, this is the first time that a Jewish nonprofit organization has received the honor.

The Foundation was nominated for the award by Sol Koenigsberg, former Executive Director of the Jewish Federation of Greater Kansas City, and Stan Zeldin, JCF past president, and received support from several individuals, professionals and lay leaders who generously contributed letters of recommendation. Stan Bushman, JCF past president, wrote in his letter of support, "The true outcomes of the work of the Foundation are immeasurable. Yes, $24 million was distributed to nonprofits, primarily in the Kansas City area in 2018 alone. Yes, many millions of dollars are in the pipeline for the future of our community. The most important outcome of JCF's excellence is the development of a community of lifelong givers who give from the heart, who give meaningfully, who appreciate how good our Kansas City community is and how wonderful it will continue to be for generations to come."

"The hard work of the Foundation's professional and creative staff, farsighted Board, and generous donors has given us this unique opportunity," says Alice Jacks Achtenberg, President of the JCF Board of Trustees. "We are honored to be recognized for our innovative programming which has had impressive and far-reaching impact."

Joe Imberman, former Associate Vice President of Planned Giving and Endowments of the Jewish Federations of North America also wrote in support of the Foundation. "During my years at JFNA, I had close relationships over a long period with the former and current staff and lay leadership of the Jewish Community Foundation," wrote Imberman. "Leadership was uniformly knowledgeable, compassionate, thorough and creative in solving problems and seizing opportunities in the community."
Since 1959, JCF has partnered with hundreds of dedicated individuals, families, and nonprofit organizations to make the Kansas City community a better place. It has evolved over the decades to become a multi-faceted, dynamic center for creative philanthropy and a respected leader in innovative and collaborative programs, ranging from youth philanthropy to donor enrichment to organizational capacity building. JCF currently administers 1,514 charitable funds and over the past five years has distributed $103 million to nearly 1,800 nonprofit organizations.
Based on Jewish values, JCF has created educational and engaging philanthropic programming for every age and stage of life. The Foundation's "Continuum of Giving" programs begin with B'nai Tzedek, which introduces Bar and Bat Mitzvah-age children to philanthropy through their own charitable funds at the Foundation. As participants grow older, they may join J-LEAD, the Foundation's giving circle for young adults in their 20s, 30s and 40s. JCF's Donor Advised Fund program develops better informed, more strategic and impactful philanthropists and allows donors to support their favorite charities in an efficient and tax advantageous manner. Through Create a Jewish Legacy, the ultimate component in the Continuum, JCF provides nonprofit leadership with comprehensive planned giving training, consulting services, customized marketing resources, and valuable financial incentives.
JCF shares this honor with the hundreds of generous donors and organizations with whom it partners to transform philanthropy into a more meaningful and impactful experience.